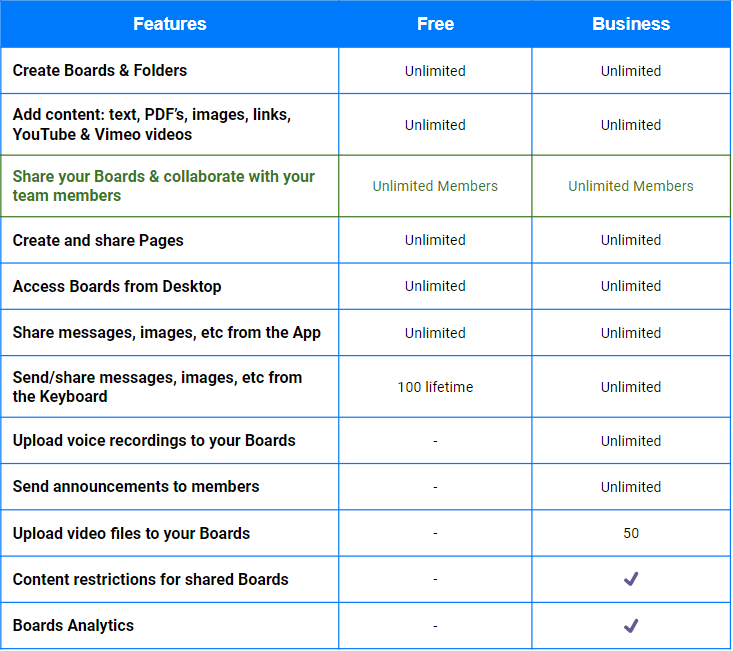 Now, let's answer some questions :)
Do my team members have to pay in order to access my Boards?
No. Access to your content is free and will always remain free. You and your team members can access your Boards without any limitations, from the app, keyboard or desktop, whether you are using the free or the business plan. Also, you can invite as many members as you wish, 5, 50,or even 5,000+.
What does the 100 shares limitation mean?
Messages, images, links, PDFs, folders, videos, and voice memos can be sent through the Boards Keyboard with the Free Plan, however, there is a limit of 100 shares/sending for lifetime.
You will still be able to use all other features of the app after reaching this limit, including sharing content from the app; however, you must upgrade to the Business plan if you want to continue using the Keyboard.
Can I purchase a subscription for my team?
Currently, upgrades can only be done from the mobile app, on an individual basis. The subscription is available on a monthly and annually basis with a big discount for the yearly subscription.
What will happen to my content if I don't upgrade?
Your content is safe and sound, you can continue to access it from the app and desktop, and create more content as you wish, while also inviting unlimited members to your Boards.